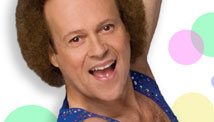 "Fat Jokes Hurt", says Richard Simmons. Yes, they do and sadly many of us have been on the losing end of them. There has been a lot of commentary on the remarks George Lopez made about Kirstie Alley and her participation in "Dancing with the Stars".
I can appreciate a good joke, but some things are just plain poor taste. Read Richard Simmon's
comments
for his personal take on Fat Jokes. Chime in! Your comments are important!