It's that time again!
Welcome to DIVA-tude Tuesday!!!
Join the group!
Feel free to add this Blog Hop Button on your Blog,
to help spread the word!!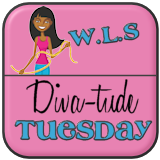 Please Note:

The blogs you follow will follow you back - just make sure you leave a comment so that the blog owner knows you were there. Also if you don't follow back, please don't sign up...this is to help boost our traffic and followers on our blogs, and we want it to be effective and fun!
Hop Rules: Follow the HOST (
that's me!
) leave a comment after signing up with the blog hop (
and following us
)...I will return the favor and follow you back!
----------------------------------------------------------------
After entering the blog hop, leave me a comment on this post so I can head over and return the favor and follow you back! This blog hop will close on February 18, 2011, at 5 am. This will be a weekly blog hop, so come back each Tuesday to sign up!